Rick Besharah – Bio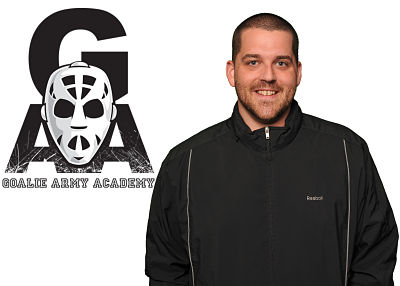 Rick Besharah – Bio
Rick Besharah's highest level of achievement was within the Chicago Blackhawks farm system at the ECHL minor professional level.  Prior to professional hockey, Besharah played both in the Montreal, QC and Ottawa, ON regions at AA, AAA, Junior B, and Junior A levels & attended Major Junior camps within the Victoriaville Tigres (QMJHL), Hull Olympiques (QMJHL), and the Kelowna Rockets (WHL) organizations.
Having experienced various hockey schools, clinics, and learning from numerous goaltending coaches, one particular camp led by goaltending guru Francois Allaire (Montreal Canadiens, Anaheim Ducks, Toronto Maple Leafs, Colorado Avalanche), and his brother Benoit Allaire (Montreal Canadiens, Phoenix Coyotes, New York Rangers) stuck with Besharah.  Besharah became a student of the game & position under the wings of the Allaire's through 14 years of training within goaltender camps, private instruction, video analysis and theory, as well as dryland training.  Through being a dedicated student of Allaire's teachings, and also having had the opportunity to work at the hockey school immediately under the direction of Francois Allaire as a demonstrator, and instructor for 7 years, Besharah was able to learn the importance of working on proper goaltender technique and ensuring efficiency within all aspects of the game through a simplified structure of movements that allow goaltenders to cover as much of the net as possible in every scenario while maintaining agile.
Although currently the goaltending coach for the Nepean Raiders Tier 1 team of the CCHL, and the goaltending coach of the Nepean Raiders Midget AAA team of the HEO Midget AAA, Rick Besharah is also Goalie Army Academy's Lead Goaltender Consultant to teams and associations for their goaltender evaluations and selections as well as Goalie Army Academy's Lead Goalie Coach.  Rick Besharah began coaching goaltenders at age 14 when he was approached to take over the goaltending training for the Montreal Kings Novice AAA team. This experience led to the passion for the development of young goaltenders through technical on-ice training and conditioning, video analysis, goaltender specific power skating, and dry land training.
As a lifelong student of the game, and through his exposure to various Junior, Major Junior, and Minor-Professional teams and camps, Rick Besharah brings experience and understanding to the students that he trains about dedication, as well as the mental and physical requirements of playing at any level.
From his personal playing and training experiences, Rick Besharah has broken down the goaltender's game and developed a simple and easy to apply system called The R3E System.  This system is used to aid with providing an understanding of theory, reinforces the importance of simplifying one's game, and is supported through the various training options which Goalie Army Academy provides. With his experience and knowledge, he is able to provide the necessary exercise training and tools to his students in order to properly prepare and help them achieve their goals in hockey.
Find out more information about Francois Allaire as well as what he had to say about Rick Besharah.