Programs
All of our goalie training programs take the abilities and goals of our students into consideration.  We offer a wide range of services and options which are available to individual students, groups, teams, and associations.
Every one of our on-ice development programs are led by Rick Besharah to ensure consistent and quality instruction which will place additional focus on efficiency, and building upon a great technical foundation.
Academy Clinics
All of our clinics take place at the Minto Skating Club on the studio ice.  They are customized to the needs of our students and allow for training in all aspects of the game.
Simplifying one's game is the key to obtaining success in the crease.  Therefore, during our Academy Clinics, we focus on keeping our goalie training simple to build on ensuring that our students increase their awareness of the theory involved in the movements that we ask of them.
We approach our clinic training differently than other goalie training providers.  Instead, we place additional emphasis on proper technique in order to build a solid foundation by implementing Goalie Army Academy's R3E System.  From there, we build speed, power, and agility into the sessions.
Rather than pepper our students with as many pucks that we can fit into an hour time slot, we put our students through sets of 5-6 repetitions of each exercise to ensure that they receive appropriate rest times, and coaching.  This allows us to correct mistakes or bad habits at an earlier stage of each practice, and also allows for the goaltender to feel rested every time they enter the crease to perform each exercise.
Goaltenders and parents need not worry about the amount of activity their child will receive.  Although goaltenders are provided with plenty of rest time, our goalie training sessions are sure to be demanding as two or three movements are required during each repetition and goaltenders may also receive up to three shots.
Training this way has proven to allow goaltenders to recognize situations which occur in games early, and react rapidly and with ease.  This will allow them to make the most difficult saves appear effortless.
Goaltender-Specific Power Skating
Goaltenders are told that they need to be the best skaters on the ice, however they are rarely provided with skating exercises which will aid them in their role on their teams during team practices or at various goaltender clinics or schools.
Goalie Army Academy's Goaltender-Specific Power Skating Program is perfect for any goaltender looking for proper movement and posture technique coaching, or looking to become stronger, more agile, and improve upon their endurance, balance, and stamina.
Points of emphasis are placed on the technical aspects of each students' posture and movements. We educate our students how to "play big" as well as the benefits of doing so.  This will result in increased coverage of the net through avoiding double coverage of the limbs-in-front-of-torso, or leading methods taught by other schools.
The integration of standing, butterfly drops, and butterfly slide movements into these sessions are sure to help our students apply these high tempo workouts to their games, and become more efficient through faster movement and recoveries within their creases.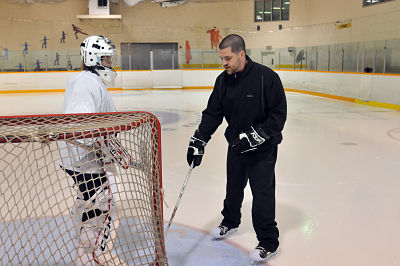 Ongoing Goaltender Development Training – Associations and Teams
Because of the need to cater to the majority of registrants, teams and associations may rank proper goaltender foundation and development training lower on their lists of priorities.
We partner with the associations and teams to provide a proper goalie training development plan to their goaltenders through association clinics and during team practices which will fit any association's budget.  These sessions allow us to ensure that all goaltenders are prepared for any scenario which they may encounter in a game by working with them to improve their efficiency in their creases.  Every exercise performed during the goaltender development sessions will include exercises which simulate game scenarios, and every package of goalie training sessions includes goaltender-specific power skating.
Goaltender Development Training – Association Clinics
Association clinics can be held at any point throughout the season, are customized to the needs of the association and their goaltenders, and allow us to work with larger groups of goaltenders so that more on-ice development through technical goalie training may be received for the association's budget.
Associations looking to take advantage of this service will have the option to provide their own shooters, and ice time.
Our association development training sessions are age and calibre appropriate, and will focus on every aspect of the game in order to ensure that goaltenders are technically sound, and continue to develop and improve.  Coaches from the teams of the association obtaining the service are welcome on the ice in order to observe firsthand how they may integrate goaltender training into their team practices, or in order to familiarize themselves with how goaltenders should be executing proper techniques.
Goaltender Development Training – Team Practices
We partner with individual teams through attending their practices and working with their goaltenders no matter what the age or calibre.  In order to properly develop the goaltenders of the teams that we work with, we will analyze the goaltenders and we will listen to coaches, goaltenders, and their parents to develop a package of practice plans which are customized to the needs of the goaltenders that we train.  By utilizing this method rather than a "cookie cutter" practice plan, we are able to fast-track the improvement of each goaltender by placing more focus on the potential gaps in their game at an earlier stage of the season.
Options are available to supply volunteer shooters from the coaching staff or team players so that the costs of our packages may be lowered even further.  This will allow teams to use their development budgets in a variety of areas while enjoying cost savings from GAAHockey.