Testimonials
"Rick Besharah was a student, a demonstrator and a teacher for over 14 years in my Goalie School (CO-JEAN) in Ste-Therese, Quebec.
Rick always performed and carried himself in a high standard.  I really appreciated his work ethic and understanding of the position
I feel Rick can be an asset for any serious organization."
 (Goaltending Coach – Colorado Avalanche, NHL)
"I have had the privilege of coaching with Rick, with the Ottawa Senators Major Midget AAA team, for the past two seasons.  I am very happy that Rick has agreed to work with my team again for the upcoming season.
Rick is a very pleasant, knowledgeable, and professional goalie instructor.  He has helped me over the past two seasons with pre-season goalie evaluations, and also throughout the season with on-ice instruction.  Rick displays a high degree of integrity, responsibility, and excellent leadership qualities.  His hard work and persistence are qualities that he passes along to his students.
The Sens Midget AAA team won the 2013-2014 OEMHL AAA championship, and also won the silver medal at the OHF Provincial championship.  Rick was a big part of our success.  Both goalies on the team last year are likely to play Tier II Jr. A next season.
Rick is an asset to our team, and I look forward to working with him again for the 2014-2015 season."
– Jeff Jordan (Ottawa Senators Major Midget AAA, Ottawa 67's OHL, 2015 Men's Team Ontario U16)
"In the summer of 2013 our son Filip had the opportunity to meet Rick Besharah during a week-long hockey camp in Söderhamn, Sweden.
During that week Filip improved a lot, and developed both as a goalkeeper and as a person.  It's apparent to me that Rick got to know our son in just a few training sessions, and therefore he could soon start working on the details in his technique.
As Filip's parents, we saw a great deal of development of his technique, but more importantly to us, we saw how Rick helped to build his confidence.
Filip talks about Rick and that week in 2013 all the time, and we all really hope he gets a chance to work with him again.
My wife and I are pleased to recommend Rick Besharah."    
                                                                                                     – Dennis Lundgren (Hockey parent, Söderhamn, Sweden)
"A big thank you to Rick for helping me to achieve a perfect 20-0 regular season record at the Midget AAA level.  Rick was a big part in helping motivate me to achieve my performance goals by helping me improve my technical ability.  Rick has a solid knowledge of the goalie position and what it takes to be successful.  It was a pleasure learning from him."
–  Johnathan Peacock (Perth Blue Wings CCHL2 – Kanata Lasers CCHL)
"Thank you for all of your help this year.  I learned a lot and your help played a big part in my success this year.  I appreciate everything you did to try to make me better."
–  Marshall Frappier (Nepean Raiders Midget AAA, 2016 OHL Gold Cup – Team HEO, Hockey Canada U17 Program of Excellence)
"Thank you so much for your help.  You are a huge part of helping (Morgan) reach his goal this year."
–  Martin Pelletier (Goalie Parent)
"Quite frankly, after our son's very first session with GAA, my wife and I were extremely impressed how you and your staff were with the kids.  That was most important to us.  When we saw the smile on our son's face after that first session, we knew we made the right choice.  And that smile continues to stay there, which continues to be the most important thing.  I can't thank you enough for helping him through all the ups and downs and constantly re-energizing his passion when the chips are down."
–  Darin Tomlin (Goalie Parent)
"Goalie Army Academy's Lead Goalie Instructor, Rick Besharah, is both of my children's all-time favorite coach.  Rick and his staff have worked with both of them throughout the past 3 years within semi-private goalie training environments which take place during my son's and daughter's team practices, and we're happy to provide others with some insight of our experiences with Goalie Army Academy.
Rick and his staff have helped both of my children to understand and improve as goaltenders by implementing plenty of game situation exercises to their training sessions, while always making the time to ensure that they understand the theory and reasons for each exercise and movement.  Rick's eye for detail, his desire to see his students develop and achieve their personal goals, and his ability to build a great rapport with his students, are just a few reasons why we continue to seek his help for the on-ice development of our children.
Goalie Army Academy approaches each goalie training session with positive and encouraging attitudes, open minds, and explain to their students that there is no wrong way to stop a puck.  While enabling each student to use their own technical style, they then place additional emphasis on improving efficiency in order to allow goaltenders to become more effective in their role.  Their customized training approach is essential to my children, and ensures that they continue to look forward to their regular goalie training sessions.
In addition to the on-ice goalie training sessions, Rick and his staff take the time before and after the sessions to speak to me and my husband whenever we have questions.  This helps us to understand how our children should apply their lessons to specific game situations which they're faced with, and allows us an opportunity to receive updates on their progression.  Taking the time to have these conversations allows us to recommend specific areas which we feel our children need extra time with, and adjusting the day's practice plan has never been an issue.
Based on our experience, Goalie Army Academy brings professional and knowledgeable staff, with great communication skills, and an ability to work with groups or individual goaltenders effectively to each of their goalie training sessions.  We're delighted to recommend Goalie Army Academy's goalie training services, program, and coaches."
– Lynda Courtemanche (Goalie Parent)
"My son, Griffin, has worked with Rick for the last two seasons.  As an assistant coach I also have had the pleasure of being on the ice with Rick while he was working with our team.
Rick is technically sound and very capable of relating his expertise to the level of goaltending he is teaching.  He has the right balance between hard work and fun and always conveys a positive attitude toward his students.  Rick has personally played at a high level and not only understands the position but can also relate to the challenges that all goalies face.
I have watched his demeanor off the ice with the kids and it is excellent.  He often emphasizes the importance of school and how discipline is required to get results.  All lessons that any parent would welcome a coach instilling in their child.
For my son, the story goes to yet another level.  Griffin expressed a desire to advance his game and play at the AA level.  Rick, totally out of his commitment to his students, developed an off season workout plan for Griffin.  He regularly checks with Griffin on his progress and has even worked out with him to encourage him to keep training.  Rick knows my son and can motivate him in ways that, as his father, I cannot.
Griffin is now 14 and has been a goalie for 5 years.  We have attended camps and sessions from almost every goalie program in the city.  I would rate Rick and his program as top tier."
– Kevin Forbes (Goalie Parent & Assistant Coach)
"My son has had the fortunate experience of working with Rick Besharah at the Goalie Army Academy through his competitive hockey club.  Rick's focus on skating and movement complement my son's style of goal tending as he is an athlete first and goalie second.  Rick has the patience and an innate ability to teach every level of goalie from house to competitive.
My son has clearly benefited from Rick's program to build 'great skating goal tenders'."
– John P. (Goalie Parent)
"Rick and his team at the Goalie Army Academy were an invaluable part of our team's success in the 2014-15 season.  Rick made an immediate impact for us by providing thorough, insightful, and expert evaluations of the goaltenders who attended our tryouts.  Every goalie received feedback that they could take with them moving forward into their season.  He continued to work with us through the pre-season, regular season, and the playoffs.  His effort and dedication was a huge part of our team success.  His interactions with our goalies was always positive, and his feedback and suggestions always constructive.  Our goalies enjoyed the experience, and carried the confidence that Rick instilled in them into each and every game.  I would highly recommend Rick to any coach that is serious about goalie development as part of his or her program.  He was a superb resource for us.  Thanks Rick!" 
– Trevor Brown (Coach, Ottawa West Golden Knights Minor Atom)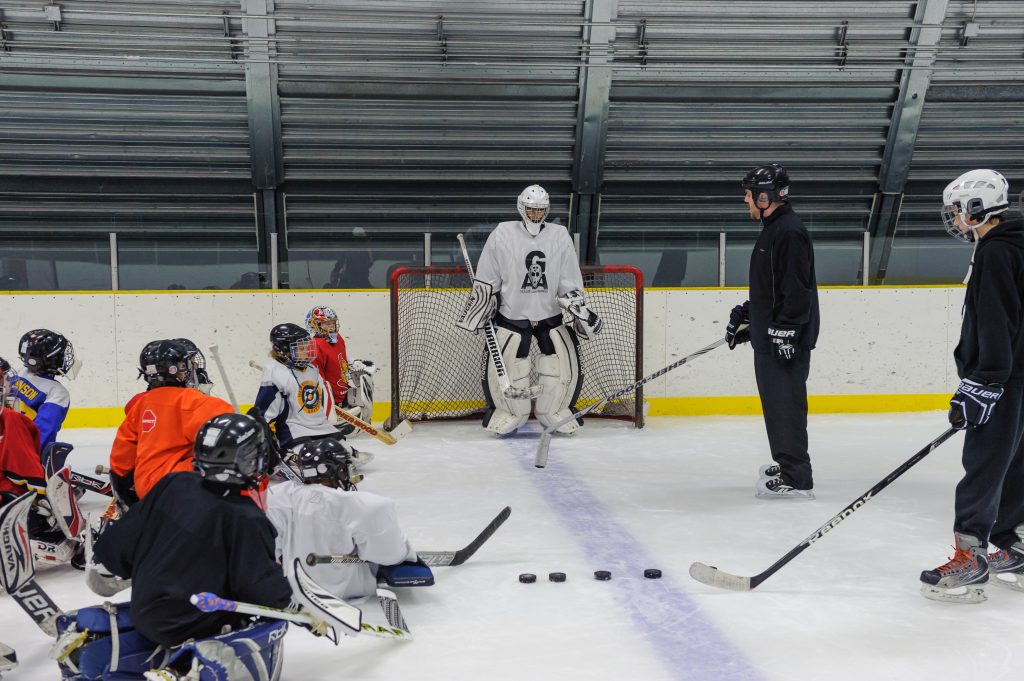 "We used the GAA for the 2013-14 season to run pre-season preparation and evaluation sessions, as well as an in-season goalie clinic.  These sessions covered the age groups from Novice to Midget.  Based on the feedback from goalies, parents and coaches, the GAA provided an excellent service in all aspects.  Rick Besharah was professional, knowledgeable, approachable and supportive.  He does an excellent job with the goalies, and teaches at their level.
Rick is an excellent communicator, sharing his feedback and addressing concerns and questions as soon as they arise. He is well prepared for his sessions and has a well thought out teaching plan.
I am happy to recommend the service of the GAA."
– Fred Barzyk (VP Development – West End Hockey League)
"Rick Besharah was our goal instructor for the Minor Atom Golden Knights during the 2012/13 season.  We were extremely pleased with all aspects of Rick's goalie training throughout the year.   Rick is extremely knowledgeable in all areas of goaltender training and is very effective at communicating to our young players.   Both our goalies always looked forward to practices with Rick.
Rick was also very professional in his bookings and was always punctual for practices.  He provided excellent feedback to the coaches and would also attend games to watch the goalies.  We also used Rick as our goalie evaluator during the tryouts which was very useful in selecting our goalies for the team.  His evaluation process was thorough and accurate.
Our goalies' performance was excellent during the season as we had the lowest GAA in the league, which I believe was a direct result of Rick's coaching.   Rick was an invaluable resource to have at practices and I will definitely be using Rick's services again in the future."
– Paul Gasperetti (Minor Atom Head Coach – Ottawa West Golden Knights)
"It is my pleasure to write a letter of recommendation for Goalie Army Academy and (Rick Besharah). Our son learned so much from his sessions. Beyond developing technique, you have really helped build his confidence and comfort in the position. I believe you truly understand the importance of "mental toughness" in a goalie, and unlike other instructors who tear down their students and leave them very insecure, you seem to really address the whole gamut of issues a goalie will face.
Ultimately, our son enthusiastically wants to go to his training sessions, and leaves with a sense of accomplishment, that he has learned new and useful techniques, and is constantly positive and encouraged. I also like the fact that you discuss areas ranging from nutrition to off-ice fitness, equipment to tips to watch out for during tryouts and evaluations.
Let's face it, goalie parenting is an expensive proposition, but with you we feel that it has been money and time well invested, and we believe you have the right approach to developing young goalies, and keeping their love of the game intact and healthy!"
– Alex Lithwick (Goalie Parent)
"Rick Besharah was the primary provider of goal tending evaluation and instruction to the Ottawa West Golden Knights for the 2012/2013 season. During tryouts, he conducted both on and off ice evaluation of goalies trying out for most of our teams. His highly detailed and comprehensive reports were invaluable aids to our head coaches in their selection of players for this very technical position. His extensive knowledge and experience in the field brought a high degree of professionalism and objectivity to the selection process.
After the teams were formed, he continued to work with most of our goalies, providing on-going instruction both in specialized clinic and individual team practice formats. He was able to work effectively with goalies of all ages from atom to midget, providing appropriate instruction according to the various age and skill levels. Feedback from our coaches was overwhelmingly positive. Goalies and their parents were also very appreciative of Rick's outstanding work.
Unlike many providers in the goalie instruction marketplace, Rick services are also reasonably affordable, allowing us to offer a more thorough training program. The development of our goalies this past year was certainly enhanced by the better training they received, in both quantity and quality, contributing to greater team success overall. For the 2013/2014 season, the Golden Knights are planning to use Rick's goal tending services to an even greater extent."
– Ted Soldaat (President – Ottawa West Golden Knights Hockey Association)
"After attending your Progressive Goalie Development Programs throughout the Spring and Summer,  Yeeren improved a lot and he accomplished his goal for this season of playing at the competitive level.  Yeeren is very excited about it.   We want to thank you for your great training programs and your efforts."
– Xiaodong Chen (Goalie Parent)
"When it was advertised that your coaches could attend practices to work with goalies I thought it was a great idea.  As an assistant coach of our Pee Wee house B team, none of our coaching staff had any expertise in advising young aspiring goalies.  The availability of your team bridged this gap.  James is going to be trying out for the Knights this upcoming season – his skills have increased significantly this past year."
–  Bill Cole (Goalie Parent)